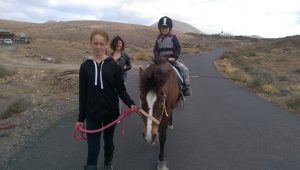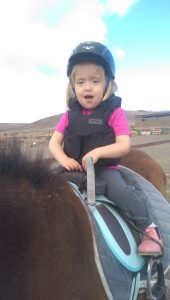 All Prices are per Person and don't include the transfer service (pick up & drop off).
For 1 and 2 hour excursions we only offer the transfer from Costa Teguise and Puerto Del Carmen.
Excursion  1 hour: €45
If you would like to make a reservation for an exclusive Excursion for yourself and friends 
Please ask for more details.
On every excursion there will be a guide. 
We provide riding helmets and back protectors for everybody. Everybody is required to wear a helmet.
Discover the island with an exciting journey, riding in Lanzarote on trails of extraordinary beauty,
with vast volcanic landscape. From there you will have views over the majority of the east of Lanzarote.
Our horses:  We have horses for all ages and for all types of riders, from those who are experienced riders to those who have never been on a horse before.
Our guides: Experienced guides ensure that all safety precautions are met and make sure you enjoy your ride to the full.
Equipment: We provide riding helmets and body protectors for everybody. Everybody is required to wear a helmet.
Duration: Our excursions have duration of 1 hour, 2 hours on special request.
Transfer: We offer a hotel transfer service (pick up & drop off). 
EXCURSIONS
One hour excursion
For those who can ride and those who have never been on a horse or just a few times.
We will go either with beginners and advance riders. Children can come from 6 years old,
the small ones will go on a pony or horse on a lead rope so they feel safer.
Two hours excursion on special request
Only for experienced riders, people who can control the horse for trotting, cantering .
This one is for those used to ride who want to do their favourite hobby on a different surrounding.
PRICE: €45 for one hour
TIMETABLE: open every day except Thursday from 9:00pm to 1:00pm and 4.00pm to 6.00pm
Excursions: Mon, Wed and Friday 9.30
Lessons: Mon, Fri 16.30 Sat, Sun 8.30
Todos los precios son por persona y no incluyen el servicio de transferencia (recogida y entrega).
Para excursiones de 1 y 2 horas, solo ofrecemos el traslado desde Costa Teguise y Puerto Del Carmen.
Excursión 1 hora: € 45
Si desea hacer una reserva para una Excursión exclusiva para usted y sus amigos
Por favor, solicite más detalles.
En cada excursión habrá una guía.
Proporcionamos cascos de montar y protectores de espalda para todos. Todos están obligados a usar un casco.
Descubre la isla con un viaje emocionante, montando en Lanzarote en senderos de extraordinaria belleza,
con un vasto paisaje volcánico Desde allí tendrá vistas de la mayoría del este de Lanzarote.
Nuestros caballos: tenemos caballos para todas las edades y para todo tipo de jinetes, desde aquellos que son jinetes experimentados hasta aquellos que nunca antes han estado a caballo.
Nuestros guías: guías con experiencia aseguran que se cumplan todas las precauciones de seguridad y se aseguren de disfrutar al máximo de su viaje.
Equipo: proporcionamos cascos de equitación y protectores corporales para todos. Todos están obligados a usar un casco.
Duración: Nuestras excursiones tienen una duración de 1 hora, 2 horas bajo petición especial.
Transferencia: ofrecemos un servicio de traslado al hotel (recogida y regreso).
EXCURSIONES
Una hora de excursión
Para aquellos que pueden montar y aquellos que nunca han subido a un caballo o solo unas pocas veces.
Iremos con jinetes principiantes y avanzados. Los niños pueden venir desde los 6 años,
los pequeños irán montados en un caballo o poni en una cuerda de plomo para que se sientan más seguros.
Excursión de dos horas bajo petición especial
Solo para jinetes experimentados, personas que pueden controlar el caballo para trotar, galope.
Este es para aquellos que viajan y quieren hacer su pasatiempo favorito en un entorno diferente.
PRECIO: € 45 por una hora
HORARIO: abierto todos los días excepto los jueves de 21:00 a 13:00 y de 16:00 a 18:00.
Excursiones: lunes, miércoles y viernes 9.30
Lecciones: lun, vie 16.30 sáb, dom 8.30
Horses Lanzarote
Poligono 7,
Calle Pardelera
Teseguite,
Teguise, 35539
Lanzarote, Las Palmas
Contact Details: English +34 696844395,       Español +34 660306800
Please contact us before using the PayPal option to check availability no refunds given
Please use the contact form to book and we will send you an invoice using Paypal